Lumber Liquidators Flooring
Write a review of Lumber Liquidators Flooring
Read
Lumber Liquidators wood flooring reviews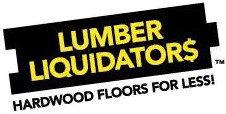 Lumber Liquidators is a nationwide retailer of hardwood, bamboo, cork, laminate, and vinyl flooring. They sell flooring products directly to homeowners and contractors at its brick-and-mortar stores and through their website and catalog. Other products they sell include molding, underlayment, adhesives, flooring power tools, and floor cleaning supplies. Lumber Liquidators is headquartered in Toano, Virginia and has over 350 stores in the United States and Canada. The full company name is Lumber Liquidators Holdings, Inc. It is traded on the New York Stock Exchange under the ticker symbol LL.
Brands Sold at Lumber Liquidators
Many of the flooring brands available at Lumber Liquidators are also owned and operated as subsidiaries.

Lumber Liquidators History
Lumber Liquidators was founded in 1993 by Tom Sullivan who was initially a contractor. According to their corporate website, Tom Sullivan resold unwanted wood in Massachusetts and opened his first store a few years later. His success continued and Lumber Liquidators is now considered to be the largest retailer of hardwood flooring in the United States.
60 Minutes Formaldehyde Controversy
On March 1st, 2015, CBS aired a 60 Minutes report critical of Lumber Liquidators. The broadcast alleged that Lumber Liquidators knowingly sold laminate flooring containing illegal and harmful levels of formaldehyde. Samples of laminate originating from China were said to have levels of formaldehyde that exceeded California Air Resources Board regulations. The American-made samples that were tested, however, did meet the health standards. Lumber Liquidators denied these allegations, stating that "testing by independent third parties confirmed that 100 percent of the randomly selected cores used in the laminates from the factories that 60 Minutes investigated came back as fully safe".
Contact Info
Lumber Liquidators
3000 John Deere Rd.
Toano, VA 23168
Phone: 1-800-HARDWOOD