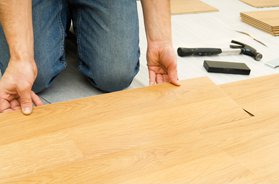 Flooring projects present homeowners with a wide range of choices in materials and services. Wood floors may be made from hardwoods or softwoods, manufactured products or bamboo. There are multiple types of vinyl, rubber and other synthetic materials available to provide resilient residential and commercial floors.
Our mission is to provide you with straightforward tools to help you select the most appropriate products and services within your budget. We can also help you understand the regulations and resources available to help with hiring flooring contractors in your state.
Confused about your flooring warranty? This article explains how (and when) flooring materials and labor are guaranteed by their manufacturers and installers.